Welcome to the Vancouver Area Literature sub-committee page
The Vancouver Area Literature sub-committee (VALC) provides literature to all the Groups (Meetings) that are attributed to the Vancouver Area Service Committee (VASC). This includes West Vancouver and Squamish. Two of the mandates of the VALC is to maintain an adequate inventory of literature, sufficient to meet the needs of the VASC Groups and to make that literature available at the monthly Area meetings.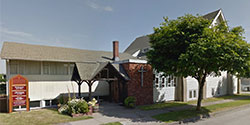 The monthly area meetings are on the first Wednesday of each month at 6:45pm 808 East 50th Ave, Vancouver which is Saint Mary the Virgin South Hill Church.
It may be possible to collect literature directly from our literature chair. Please contact our Literature subcommittee using the contact us page to see if an appointment is possible. All appointments are made at the discretion of the subcommittee.
The VALC is also at liberty to supply literature to individual members as well as to other interested persons or entities. Please take a moment to email literature@vascna.ca to find out how to purchase literature outside of the membership.
Download a price list – Literature Price List – Microsoft Excel. This document will calculate the cost for you if you have Microsoft Excel on your computer
Download a price list – Literature Price List PDF
Our locker is located in Mintage Vintage on Commercial Drive, Vancouver BC. (See map below)